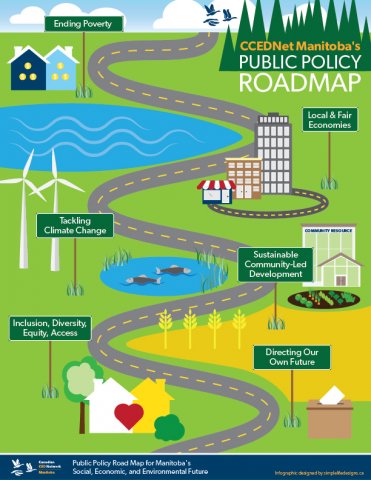 These are the priorities of our Network – brought together as a Public Policy Road Map for Manitoba's Social, Economic, and Environmental Future. This Road Map guides our advocacy, organizing, and collective voice every day of the year.
It is our collective belief that if Manitoba follows this Road Map rooted in a Community Economic Development vision, our social, economic, and environmental future will be stronger and our communities will be more inclusive, equitable, democratic, and sustainable.
When taken all together, the recommendations proposed in this document, while not exhaustive, represent solutions to some of Manitoba's most challenging, interconnected issues.
As members know, the Network's public policy mandate is the result of a democratic decision-making process. Every year, members work together to create a pragmatic, wide-ranging and solutions-focused set of public policy resolutions. This is the result.
Our Collective Vision is: Sustainable and inclusive communities directing their own social, economic and environmental futures.
Together, we're focused on:
Ending Poverty
Local & Fair Economies
Tackling Climate Change
Sustainable Community-Led Development
Inclusion, Diversity, Equity & Access
Democracy & Directing our Own Future
---
Policy Resolutions Package
Each individual resolution submitted by CCEDNet members is incorporated and organized within the Public Policy Road Map. To view each individual resolution, follow the links below. Resolutions are active for three years unless re-submitted in an amended form. With an evolving membership over time, our policy mandate is also evolving.
More information
Contact Michael Barkman [m.barkman at ccednet-rcdec.ca] to find out more about how we're advancing these policies and how you can help or participate in CCEDNet Manitoba's Policy Summit. Let Michael know if you are interested in having CCEDNet Manitoba talk to your community and/or your organizations about the importance of policy and how to change it.