Join a conversation to explore how local organizing principles and approaches can contribute to the creation of more sustainable, fair and inclusive economies.
The Local Organizing for Fair Economies Community of Practice met twice in Fall 2019, exchanging ideas, learning, and experiences. We're looking forward to invigorating conversation and expanding our circle in 2020 with an exciting calendar ahead.
January's conversation will be on "Local Organizing for Responsible Development":
The Toronto Community Benefits Network is a leader in local organizing for equitable economic opportunities and inclusion for all, directly impacting the development process in the City of Toronto. Learn from their tangible examples about how to build grassroots support to enable policy reform and in the process transform local economies.
Kumsa Baker, Campaigns Manager for the Toronto Community Benefits Network, will share knowledge and experiences, followed by facilitated discussion and group conversations. 
Join us from 1:00-2:30pm Eastern Standard Time on January 31, 2020.
Register now and connection details will be emailed to you, as well as a reminder a few days before the session.
PRESENTER
Kumsa Baker - Campaigns Manager, Toronto Community Benefits Network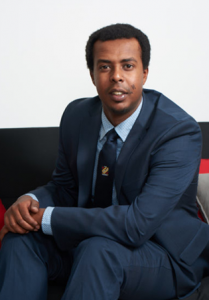 Since getting involved in the labour movement organizing for a union at his workplace, Rogers Centre a.k.a the Skydome, Kumsa Baker has been an advocate for decent work and equitable employment opportunities for all in Toronto. In 2015, Kumsa joined the Research Department at his Hospitality and Food Service worker union, UNITE HERE, supporting key campaigns across North America. He has also organized with the Toronto 15 & Fairness Campaign who were successful in organizing for and winning major changes and improvements to the outdated Ontario Employment Standards Act. In 2017, Kumsa was recognized for his advocacy being selected for the 2017 Young Workers Award by the Ontario Federation of Labour. Kumsa currently works as Campaigns Manager with the Toronto Community Benefits Network, supporting Toronto neighbourhoods in organizing for fairer economies and equitable, local economic development through Community Benefits Agreements
LOGISTICS
The Local Organizing for Fair Economies Community of Practice is an online conversation space, held through video conferencing on Zoom.
This session is in English.
You will need speakers or a headset on your computer.  To ensure your system will be compatible with our webinar platform, look at the Zoom quick start guide prior to the session. 
Further login details will be sent along with a registration confirmation.
ABOUT THE COMMUNITY OF PRACTICE
The Local Organizing for Fair Economies Community of Practice faciliates conversations with people from across Canada and Indigenous territories to:
Curate resources (Community Benefits page)
Facilitate conversations about challenges and solutions
Track policy updates (municipal, provincial, federal, Indigenous, etc.)
Help identify resources available