A Resilient Recovery for Manitoba's Economy
You are here
Virtual panel discussion exploring equitable economic development in the COVID-19 era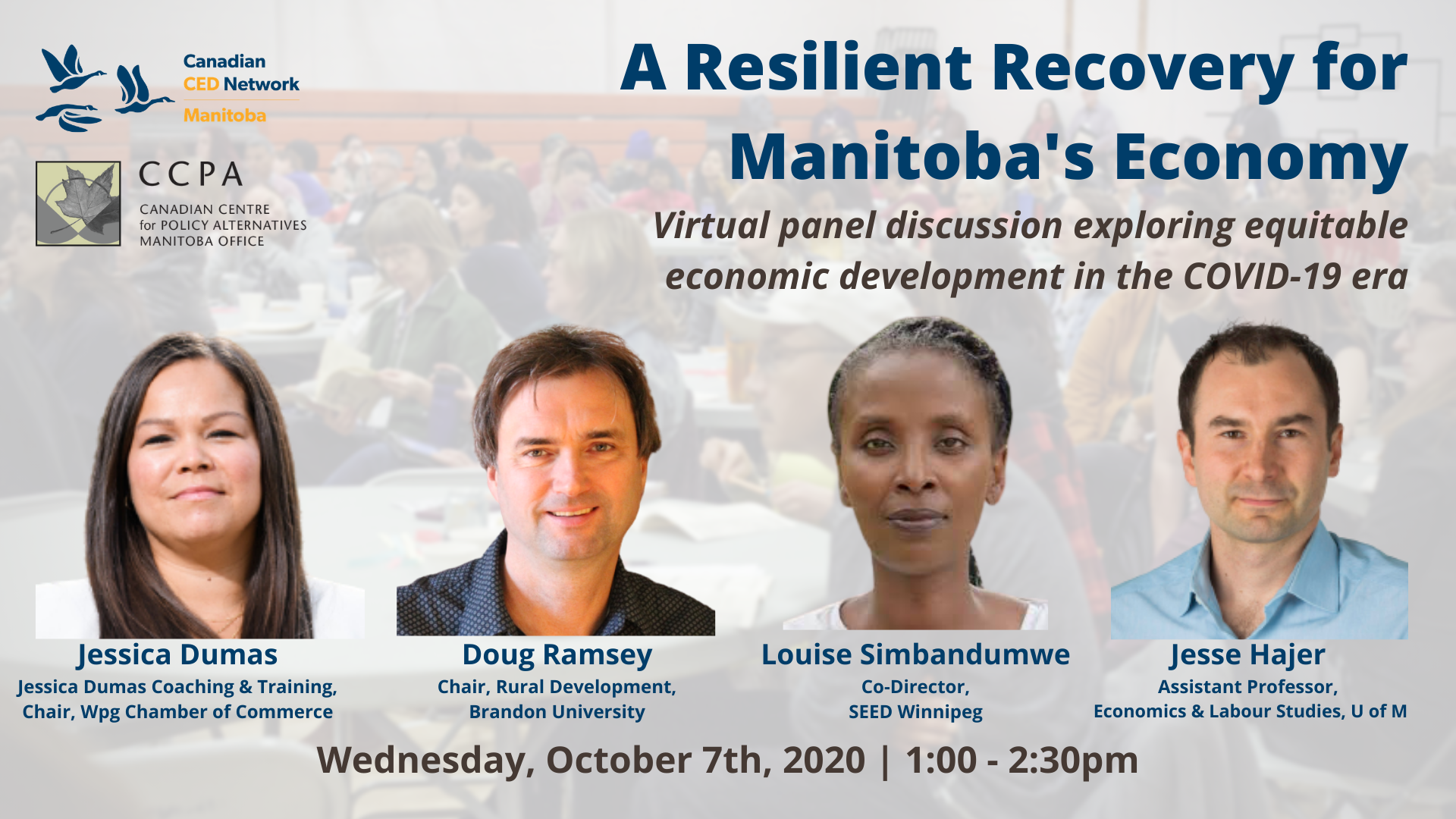 Wednesday, October 7th, 2020
1:00 - 2:30pm
Hosted via Zoom: A Virtual Panel Discussion with live Q&A
Co-hosted by: Canadian Centre for Policy Alternatives - Manitoba Office
---
Speakers
Jessica Dumas - President, Jessica Dumas Coaching & Training and former Chair of the Winnipeg Chamber of Commerce
Louise Simbandumwe - Co-Director, SEED Winnipeg
Jesse Hajer - Assistant Professor, Department of Economics and Labour Studies Program, University of Manitoba
Doug Ramsey - Chair, Department of Rural Development, Brandon University
---
More information
The COVID-19 pandemic, like everywhere in the world, has stressed out the Manitoba economy in all pockets of the province. 
But, a resilient recovery for Manitoba could look like renewable energy projects led by First Nations providing jobs and prosperity to communities. It could look like rural communities reaping local benefits while strengthening provincial food security. Or, it could look like government or institutions purchasing from inner city enterprises that support local hiring from marginalized communities. 
In the midst of fear and worry, these and many more Community Economic Development (CED) innovations are equitable, just, and sustainable practices that could be at the heart of economic recovery and development across Manitoba. 
You can be part of the growing number of Manitobans committed to our resilient recovery through CED.
By joining the live stream on October 7th, you will gain knowledge of innovative community projects and connect these with a broader understanding of Manitoba's economic picture.
Tune in and you will find out what's needed to encourage the provincial and municipal governments to support a resilient recovery through CED with innovative public policy decisions.
Register today! 
When
7 October, 2020 14:00 ET to 15:30 ET
Location
delivered via Zoom
MB
Canada