💥The Community Leadership Program (CLP) is back, and we're pleased to announce registration is now open!💥
Our Community Leadership Programs help mid and senior level managers and leaders explore approaches and strategies to move forward in their leadership with intention and purpose and to build organizational strength and resilience. Level up your leadership and register today!
---
Fall course dates: Module 1: October 12, 2023 / Module 2: October 26, 2023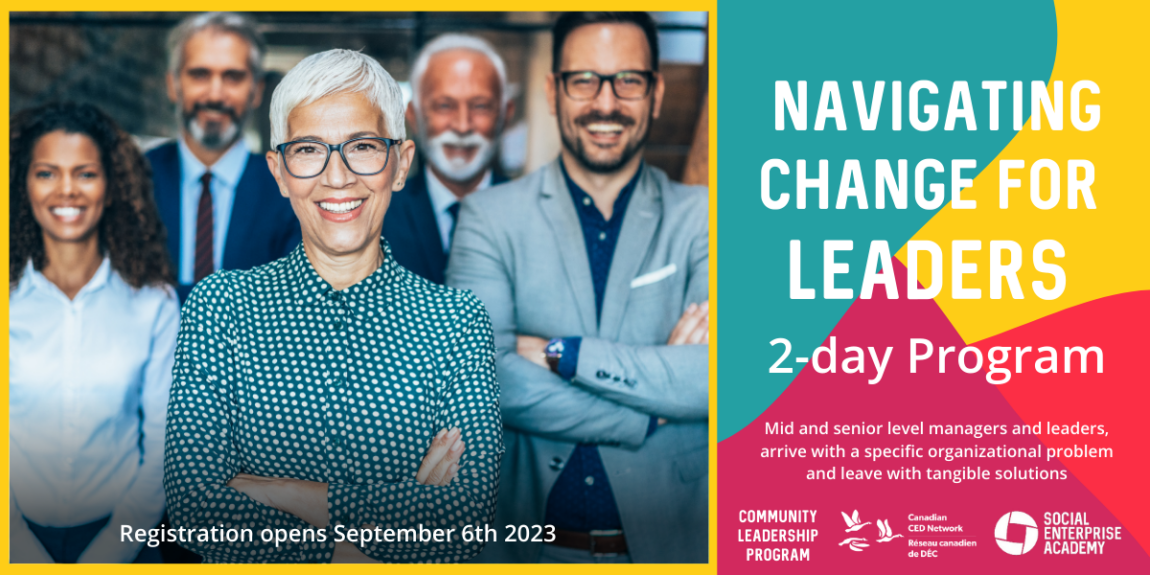 Navigating Change for Leaders is a two-day course for leaders who are handling changes within their organization. As a participant, you'll arrive with a change management issue in hand, and then develop an action plan around it. Upon completing the course, you'll feel confident in your ability to support your team and energize your stakeholders as you achieve your vision for change.
"I highly recommend Navigating Change for Leaders] to anyone planning or experiencing change in their organization! The ability to work on your real life change scenario throughout the two days means it's a very productive time. The variety of participants and how they approach each segment allows you to see how the principles can be applied in different settings. My immediate needs were met and I came away just bubbling with ideas and a fresh energy for my project after these two days."

–Dorothy Franklin, Strategic Planning for Not-for-Profits |Navigating Change for Leaders program participant
This was the most effective professional development experience I've had as a nonprofit leader. The workshop made me feel less alone in my change management frustrations and gave me just the boost of confidence and planning I needed to face change head on. The tangible nature of the course ensured I could almost immediately put what I was learning into practice in my work life. The workshop was absolutely worth the time investment. I reflect back on the content often and would absolutely recommend this experience to anyone.

-Testimonial from past participant

---
Fall course dates: Bi-weekly, every Thursday beginning October 5, 2023 and ending December 14, 2023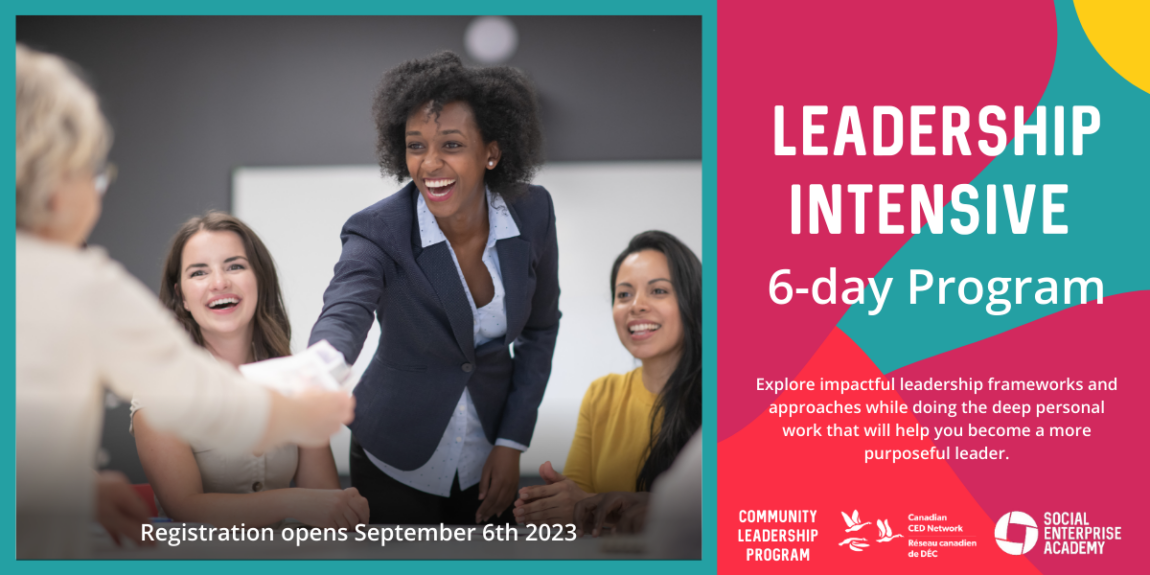 Leadership Intensive is a six-day course in which learners explore three vital areas of leadership: self-leadership, leading and understanding others, and leading within an organization. The course is built around popular education principles, blending lessons on impactful management frameworks with supportive exercises for doing deep personal work.
"I loved the variety of learning strategies and the scope of practical tools offered. I really appreciated having participants from different sectors (all within the social impact family) from across Canada. I loved the combination of plenary and small group work, very impactful!"

"I have a new understanding of my role as a leader among leaders in my organization,. I've been empowered to see different ways in which I can improve as a leader and become a better supporter to the people I lead, and have also been edified to see there are things that I'm already doing alright at!"

"It has been awhile since reflecting on my leadership and at this stage of my career it was helpful to reflect on this through a series of tools. I feel I have clarity on how I want to lead in the next phase of my career."

-Testimonials from past Leadership Intensive program participants

Sounds great, but is it the right fit for me?! Or simply want an energizing refresher on leadership? Register for a FREE Intro Session to sample our Community Leadership Programs!
Are you interested in further developing your leadership skills but wondering if the strategies and frameworks used in our Community Leadership Programs are the right fit for what you and your organization need? Join colleagues for an engaging and energizing 2.5 hours to discuss and explore approaches, strategies and ideas that build leadership resilience and help you navigate organizational change. Check out our free Leading Through Change intro workshops on September 12th and 19th to experience a sample of these strategies and learn more about the CLP programs.
More Questions?
If a group of leaders from your organization are interested in CLP, we can tailor the program to your organizational context and learning needs. Contact Adriana Zylinksi for more information or visit our CLP page.