Happy Holidays from CCEDNet!
CED Holiday Buying & Giving Guide 2014
The holiday season is often a time when we feel we can reaffirm our values. Like Ebenezer Scrooge at the end of Charles Dickens' A Christmas Carol, we pull away from our inward looking preoccupations and reawaken to the importance of our familly and friends and the community around us. At the same time, for many, Christmas has become synonymous with the trappings of a consumerist society that is contributing to the mounting social and environmental challenges of our times.
In recognition of this, the Center for a New American Dream has put together a great list of ways in which you can Simplify the Holidays. But if you are going to spend over the holidays, why not direct your purchasing and giving in ways that have positive social and environmental impacts?
We at the Canadian CED Network have compiled some creative gift ideas and shopping guides to provide you with the tools and information you need to have a CED-filled holiday season. See anything missing from this list? We will be adding more tips throughout the rest of the month so send us your additions.
Use the Social Enterprise Marketplace to Find Gifts from Social Enteprises


Interested in buying from social enterprises this holiday season? Check out this online marketplace from the Social Enterprise Canada to research social enterprises by name, industry, location and/or the social purpose they achieve. [more]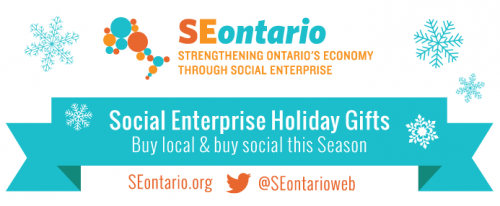 Social Enterprise Holiday Gift Ideas from SEontario.org
This holiday season why not make a purchase that won't just make the receiver happy, but will also benefit Ontario, and your local community? Throughout the month of December SEontario will be showcasing different Social Enterprises [SE], and SE Marketplaces that you can purchase your holiday gifts from. [more]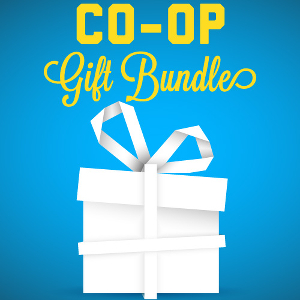 Co-operative Gift Bundle
Buying gifts for the holidays can be an ethical statement that helps build a new economy. The Toolbox for Education and Social Action put together their most popular items with the best—and most delicious—gifts produced by the co-op movement. [more]
---

Get the Facts on Shopping Local for the Holidays
To illustrate the ways that local businesses are growing in popularity, delivering stronger economic returns, and expanding in numbers, the Advocates for Independent Business, a coalition of 14 groups coordinated by the Institute for Local Self-Reliance, put together this infographic. [more]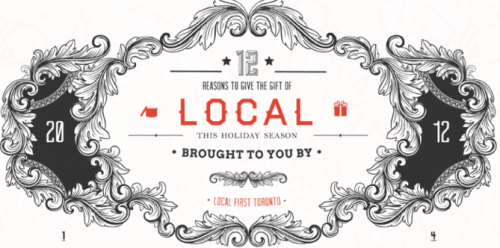 12 Reasons to Give the Gift of Local This Holiday Season
Of course, shopping at local, independent businesses is an important way to strengthen local economies. The folks at Local First Toronto have prepared a poster with 12 Reasons to Give the Gift of Local This Holiday Season [more]
BC Buy Local Week 2014 – December 1-7, 2014
<