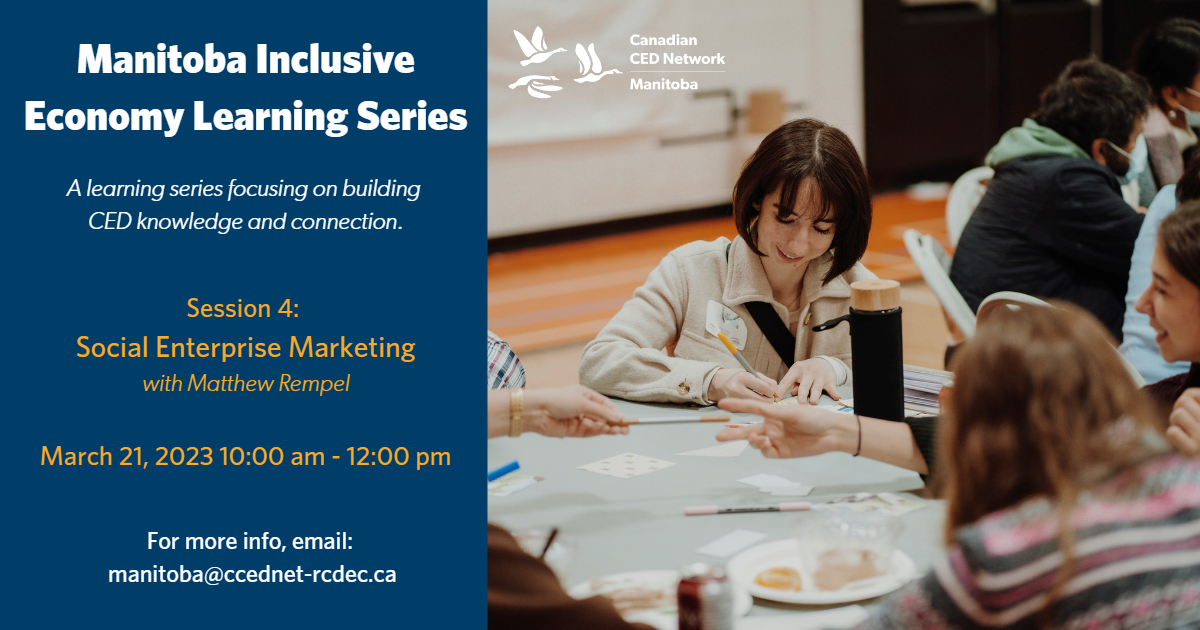 ---
10:00 AM - 12:00 PM Central Time | United Way Winnipeg Learning Centre (580 Main St., Winnipeg, MB)
How Do You Market a Social Enterprise? - A Quick Start Workshop
Marketing can seem overwhelming, especially if you didn't expect to be a business manager. In this workshop, we will explore what marketing is, defining several different categories of marketing, and how they are typically used. We will explore how marketing a social enterprise is similar yet different to marketing a profit-focused business. Participants will leave this workshop with a list of potential marketing opportunities for their social enterprises, and some first steps to start pursuing one of those opportunities.
This workshop is for social enterprises looking to develop, expand, or iterate on their marketing techniques. Join Matthew Rempel from Strategy Made Simple on March 21 at the United Way Winnipeg Learning Centre for this interactive workshop.
We encourage you to participate in the entire Inclusive Economy Learning Series!
Accessibility: Accessibility accommodations are available by advanced request by contacting Marlis Funk at m.funk@ccednet-rcdec.ca by March 14, 2023.
Cost:
CCEDNet members -  free 
Barrier-free* - $0
Non-member organization or individual - $50 (Not a member? Join CCEDNet)
*Barrier-free – This option might be community members who are Indigenous, Black, or People of Colour, people with disabilities, students, people with lived experience of poverty, or low-income earners.
---
About the Facilitator: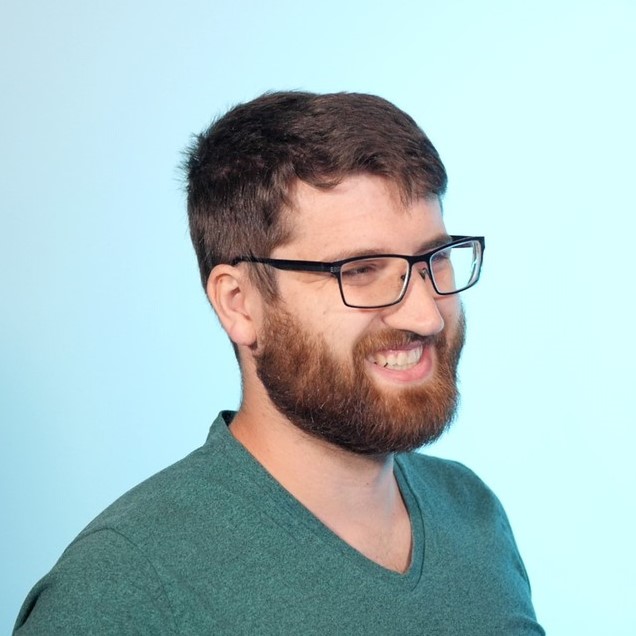 Matthew Rempel is a social enterprise development coach with a marketing lens. Matthew can provide resources, workshops, as well as one on one and small group coaching.
Matthew's skills are particularly suited to interviewing and coaching social entrepreneurs to help them clarify the core values of their operation, and to see the value that they can provide for their clients/customers and towards their social goal. He also has experience in brand development, online business startup, business planning, communications planning, product and service development, re-branding, content creation, and workshop facilitation.
Want to start brainstorming before you get to the workshop?
Strategy Made Simple has a video on the ways that you can reach your customers and how they reach you. It might prompt some thoughts about what you're already doing and what you could do.
---
This is part four in the Manitoba Inclusive Economy Learning Series.
Are you working to strengthen your local community here in Manitoba? Do you envision a more inclusive economic system in our province? Want to connect with others to dream and build more sustainable communities and fairer economies?
The ideas and practices of Community Economic Development (CED) are ready to meet the moment we're in. CED addresses poverty, it builds climate resilience, and it contributes to a more inclusive economy. 
But, to make CED happen we need to:
Learn together and share best practices, models, and stories, building up our collective understanding of building a more inclusive Manitoba economy 
Build capacity and connect together to strengthen advocacy work 
If you're passionate about the concept and helping the build local economies that strengthen communities and benefit everyone, you are invited to join - whether you're just learning about this work, or are already involved in local community organizing and CED work. 
This series is designed to strengthen the work of CCEDNet members, but is open to non-members who are interested in the topic. To join CCEDNet or to find out more about our barrier-free membership policy, click here.
If you join this series, you will:
Develop your leadership skills and enhance your vision for change 
Grow your knowledge of economics and economic justice, and how it relates to your work
Connect with others interested in and practicing CED
Strengthen your advocacy and ability to take action
Upcoming sessions:
April 19, 2023 - Understanding Social Finance for Non-Profits and Community Building
When
21 March, 2023 11:00 ET to 13:00 ET
Event Fee(s)
| | |
| --- | --- |
| Non-member organization or individual | $50.00 |
| CCEDNet member rate | $0.00 |
| Barrier-free | $0.00 |