Campfire Chat: Building Effective Coalitions and Partnerships
You are here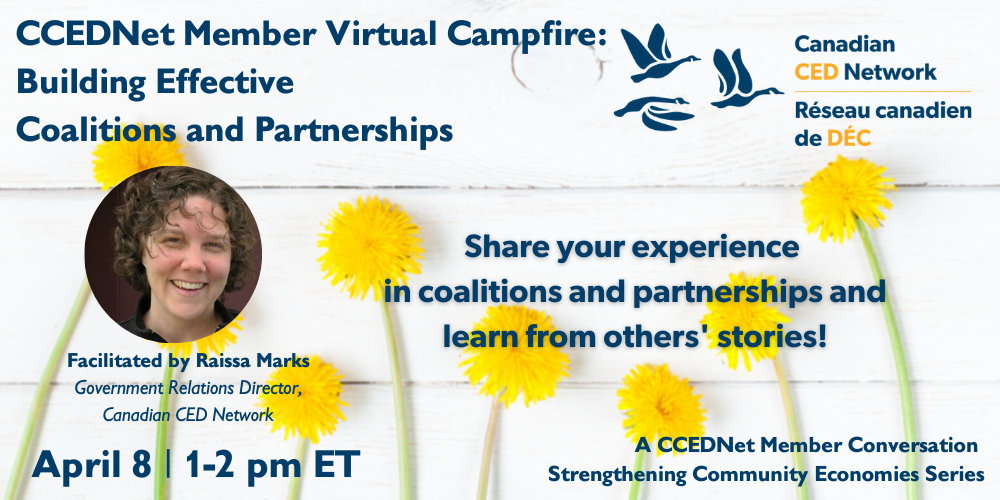 10:00-11:00 am Pacific
11:00 am -12:00 pm Mountain
12:00-1:00 pm Central
1:00-2:00 pm Eastern
2:00-3:00 pm Atlantic
2:30-3:30 pm Newfoundland
"If you want to go fast, go alone.  If you want to go far, go together."
It's a quote we often hear, but it's easier said than done! 
Whether with people we know or people we don't know – or, perhaps more importantly, whether with people we like or people we don't like – working with others is an important aspect of policy & advocacy work.  Successful collaborative relationships can bring fresh ideas, expand our reach, and lead to new opportunities.  But, getting to successful collaborative relationships is not always easy.
Have you been involved in a coalition that was a resounding success?  What about ones that went wrong?  What did you take away from those experiences? 
This campfire chat will provide you with an opportunity to share your own experience in coalitions and partnerships and learn from others' stories in an informal peer-to-peer learning environment.  If you're a novice, no worries, your stories are just as valuable!
Please join us on April 8!
The Strengthening Community Economies Series is designed to build skills, provide support, and strengthen a culture of political action among CCEDNet members. To join CCEDNet or to find out more about our barrier-free membership policy, click here.
When
8 April, 2021 13:00 ET to 14:00 ET