Levels of government signal a new approach to collaboration and partnership in Manitoba, including solving complex problems through social economy alternatives
Representing our members and our Network's collaborative CED approach, CCEDNet Manitoba participated in an exciting announcement on October 27, 2023.
Premier Wab Kinew, Minister Dan Vandal (represented by MP Terry Duguid), and Mayor Scott Gillingham came together to announce a new era of collaboration to help solve complex challenges and support alternatives in our communities. This includes governments looking to the valuable contributions that CED enterprises and organizations to achieve these goals collaboratively.
AMC Grand Chief Cathy Merrick was present at the event, and Elder Mae Louise Campbell (Clan Mothers Healing Village and frequent speaker at the CCEDNet Gathering) opened the event in a spirit of cooperation and friendship.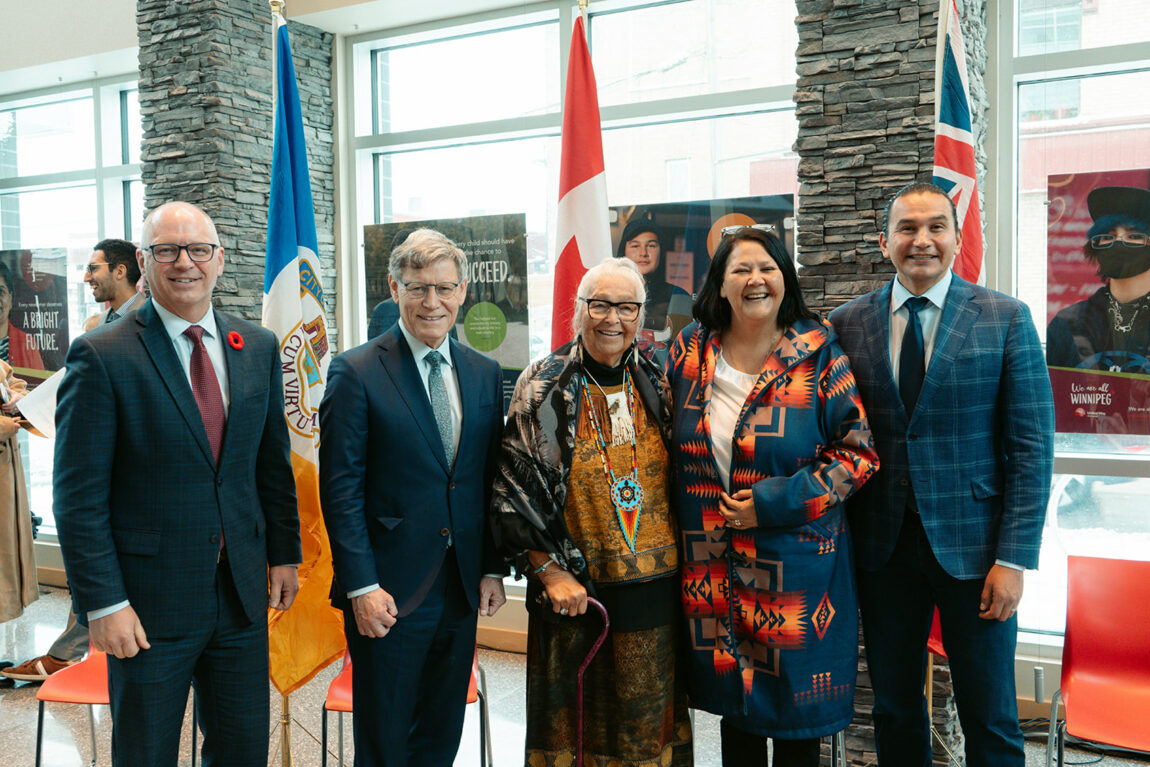 As part of the announcement, PrairiesCan announced support for 4 projects in Manitoba's social economy and social entrepreneurship community.
CCEDNet Manitoba will receive $75,000 from PrairiesCan over three years in support of the annual Gathering of CED community builders. This support will be essential for the Network to continue this important annual tradition of bringing CED leaders together, supported by an advising team of community members.
CCEDNet members BUILD and Purpose Construction will receive $631,000 to complete green retrofits of the Social Enterprise Centre, supporting the demonstration space that supports employment and training opportunities for those facing multiple barriers to employment.
The event was hosted by another CCEDNet Manitoba member, United Way Winnipeg. It was fitting to be hosted by the United Way given their collaborative way of working to engage individuals and mobilize collective action to improve lives and build community.
Provincial Election ushers in change and new government

On October 4, Manitoba elected a new provincial government.

Check out this summary of key Departments and Ministers responsible for priorities of the Community Economic Development sector in Manitoba. Your guide to the Departments, contacts, and priorities as an advocate for CED – including mandate letter highlights!