The mission of the BC Community Impact Investment Coalition is to be a learning community for Community Impact Investment practitioners in British Columbia and to advocate and develop enabling Community Impact Investment programs with the Provincial Government and other BC organizations.
BC CIIC brings together co-ops and other groups from across BC to build a movement for local ethical investing that benefits rural and urban local communities.
Members are involved in raising capital in their own communities to invest in local businesses and projects that provide a financial return to their members while also creating social, economic and environmental impacts for local communities. Projects being supported include: Renewable energy, affordable housing, sustainable agriculture and food; waste recovery and recycling, social and training enterprises, locally owned businesses, sustainable community economic development.
All of our members are trying to build sustainable and diversified local economies. We believe in buying local and investing locally for the future resilience of our communities. We would like to repatriate some of the $4.5 B in investments by BC residents each year that go into stocks, shares and mutual funds outside of our province into local investing for community benefit.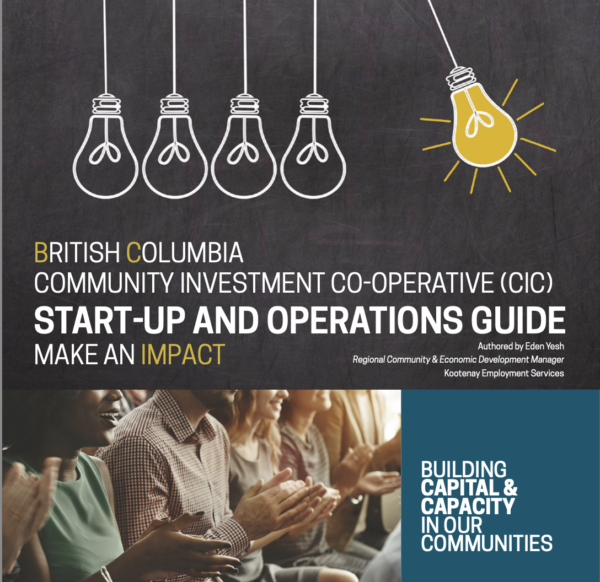 The British Columbia Community Investment Co-operative Startup and Operations Guide was produced to support people who want to start a community investment coop in their region.
In many provinces this form of social finance or community impact investing has made a major difference to community economic development. In Nova Scotia, for example, over $75 m in assets have been raised by over 50 community run Community Economic Development Investment Funds to build sustainable communities. In BC we have no enabling legislation or tax incentives for community impact investing unlike other provinces across Canada. We are asking the BC Government to bring in similar incentives to that of Nova Scotia for us to scale up our sector.
The policy brief Unleashing Impact Investment For BC Communities was sent to BC Government Ministers on August 1 2017 including: Minister James (Finance), Minister Donaldson (Rural Development), Minister Simpson (Social Development and Poverty Reduction), Minister Ralston (Jobs). Its recommendations have the support of the BC Coop Association, the Union of BC Municipalities, the BC Chamber of Commerce and the Canadian CED Network. An Addendum was also finalized in early 2018. Please express your support for the proposals.
The following study demonstrates the impact of one example of Community Economic Development Investment Funds in Nova Scotia, Farm Works. For more information contact our partner, the BC Rural Centre.
Thank you to the Vancouver Foundation for their support of this project.
BC Community Impact Investment Coalition Members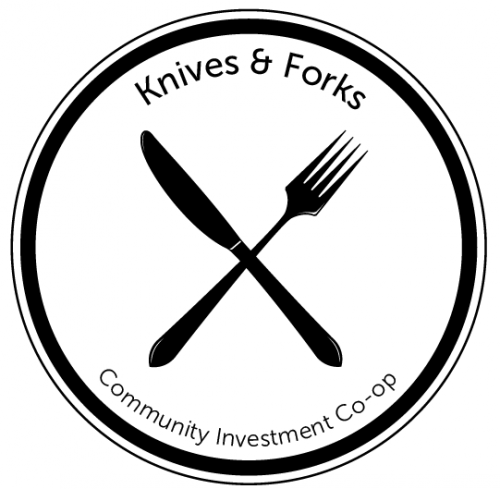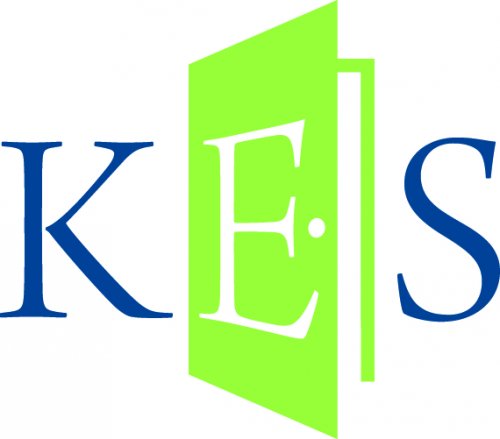 KES has been serving the employment needs of the Creston Valley since 1990. The organization is a registered charity and deeply committed to Creston's economic health and vitality. We work with many organizations in the community to address both emerging and longstanding issues affecting the local labour market. Together we help make Creston the unique and positive place that it is to live and work in.

Ethos Law Group LLP is a boutique law firm with a focus on work with charities, co-operatives, not-for-profits, and social enterprises.

The BC Rural Centre was established to help fill the information gap that exists across rural British Columbia. The Centre, by focussing on issues ranging from new approaches to farming to the importance of rural arts; from innovative rural housing solutions to community investment options, offers rural British Columbians a substantial and constantly growing array of timely, useful reports, success stories, articles, videos, podcasts, and e-newsletters through its www.bcruralcentre.org website, social media, and selected live events. The BC Rural Centre's goal is to help rural and First Nations residents make their communities stronger and more resilient.

Creston & District Community Investment Co-op
Creston's Investment Co-op aims to direct new, or pre-existing, investment capital from local residents into local ventures with community impact. The Investment Co-op focuses on four pillars: economic development, social enterprise, environmental sustainability, and local agri-food sector development. The longer a dollar can circulate within Creston & District, the greater its economic impact. The Investment Co-op has over 100 members and is a for-profit cooperative association owned and governed by local residents and serves the geographic region of communities between Yahk to Riondel.

Transition Salt Spring Enterprise Cooperative (TSSEC)
TSSEC is a BC Cooperative Association, owned by its membership. It is the independent economic arm of Transition Salt Spring Society.
TSSEC was established in part to enable islanders to invest in our own community. Its purpose is to support green projects and enterprises on Salt Spring that help to address climate change and reduce fossil fuel use, that make our community more resilient to economic and environmental challenges, and generally increase community wellbeing.

The Galiano Community Loan Fund operates in partnership with the CCEC credit union in Vancouver. CCEC was established in 1976 to support this type of community initiative. The Fund receives loan proceeds from supporters who have lent money to the Fund and these loan proceeds are deposited with the CCEC. In turn, the CCEC administers loans made to borrowers that are guaranteed by the Fund.

The pooled loan proceeds at CCEC earn interest and the earned interest is distributed to the supporters who have lent money to the Fund as a return on their loans. (Note that some supporters choose to forego receiving a return on their loans to the Fund.