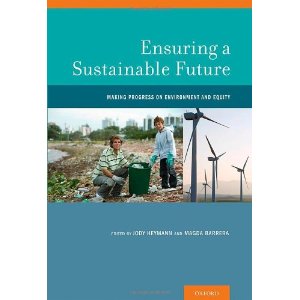 There is very little argument that the world is facing severe environmental challenges. Ongoing air and water pollution, increasing energy consumption, and the depletion of natural resources have all placed considerable stress on the capacity of our environment to support the present quality of human life in a sustainable manner.
Ensuring a Sustainable Future does what few previous works have: it examines these trends' disproportionate impact on the poor and the economically viable solutions that can serve to remedy them — solutions that simultaneously address environmental and economic problems. This gap in previous research, evidence, and writing has left low-income countries often unwilling to take on major environmental problems and many poor communities believing they faced impossible choices between improving the environment in which they live and increasing the jobs and income available.
Bringing together evidence-based recommendations and in-depth case studies of successful policies and programs around the world, Ensuring a Sustainable Future examines innovative solutions to this crucial challenge. In doing so, it addresses a comprehensive range of environmental sustainability challenges affecting low-, middle-, and high-income countries.
Introduction – The Environment and the Economy: Finding Equitable and Effective Solutions, by Jody Heymann and Magda Barrera
Section 1: Moving Forward on the Environment and the Economy: Creating Jobs, Building Healthy Communities
Chapter 1 – The Essential Connection: Environmental Sustainability, Community Stability and Equitable Development in Struggling Cities in High-Income Countries, by Ted Howard
Chapter 2 – Community Action in Informal Settlements: Strategies for Improved Environmental Health and Equity in Low and Middle Income Countries, by David Satterthwaite
Chapter 3 – Achieving Environmental Equity: Race, Place, and the Movement to Build Healthy Communities in the United States, by Angela Glover Blackwell
Chapter 4 – Building Income and Social Equity through Environmental Sustainability: Lessons from Vancouver's Downtown Eastside, by Mitra Thompson
Chapter 5 – New Skills for the Green Economy: Two Training Programs for Job Seekers in the United States, by Cosmin Paduraru and Kara Quennell
Chapter 6 – Green Social Entrepreneurship as a Poverty-Reduction Strategy: TIDE India's Use of Technological Innovation for Healthier and More Sustainable Communities, by Shannon Lockhart
Section 2: Addressing Specific Environmental Challenges in an Economically Sustainable Way
Chapter 7 – Moving Towards Sustainable Urban Transport: How Can We Integrate Environmental, Health and Equity Objectives Globally? by David Banister and James Woodcock
Chapter 8 – The New Challenges of Rapid Urban Growth: Imperatives and Strategies for Transport in India, by Madhav Badami
Chapter 9 – Healthy and Sustainable Agriculture: Working with Farmers to Transform Food Production in Latin America, by Donald Cole, Gordon Prain and Willy Pradel
Chapter 10 – Access to Healthy Foods in Urban Settings: A Comprehensive Strategy for Low-income Communities in Montreal, by Lise Bertrand
Chapter 11 – Water for Development: Investing in Health and Economic Wellbeing Globally, William Cosgrove and Håkan Tropp
Chapter 12 – The Potential of Clean Energy for Equity in Remote Communities in the North, by Tim Weis
Chapter 13 – Remote Indigenous Populations and Climate Change: Reducing the Impacts on Health and Wellbeing, by James Ford and Peter Adams