In the United States, more and more cities are using community benefit agreements to foster equitable development. Below are some case studies about cities that have implemented agreements or are getting the discussion started.
---
Pittsburgh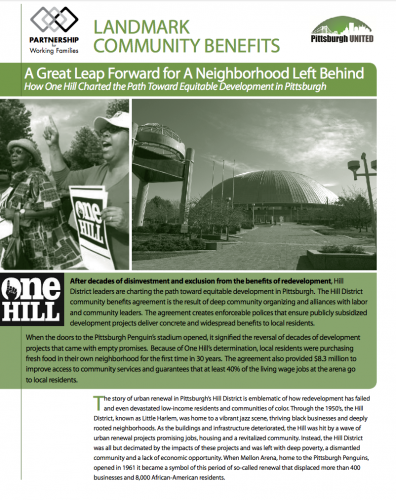 After decades of disinvestment and exclusion from the benefits of redevelopment, Hill District leaders are charting the path toward equitable development in Pittsburgh. The Hill District community benefits agreement is the result of deep community organizing and alliances with labor and community leaders. The agreement creates enforceable polices that ensure publicly subsidized development projects deliver concrete and widespread benefits to local residents. When the doors to the Pittsburgh Penguin's stadium opened, it signified the reversal of decades of development projects that came with empty promises. Because of One Hill's determination, local residents were purchasing fresh food in their own neighborhood for the first time in 30 years. The agreement also provided $8.3 million to improve access to community services and guarantees that at least 40% of the living wage jobs at the arena go to local residents. 
---
Oakland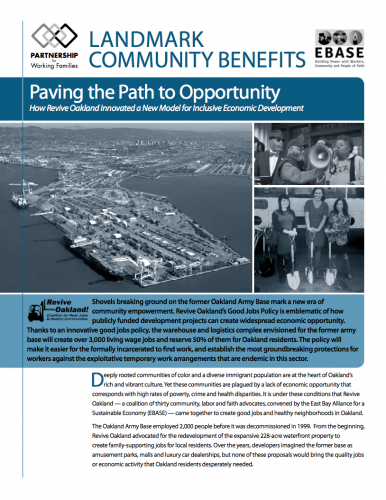 Shovels breaking ground on the former Oakland Army Base mark a new era of community empowerment. Revive Oakland's Good Jobs Policy is emblematic of how publicly funded development projects can create widespread economic opportunity. Thanks to an innovative good jobs policy, the warehouse and logistics complex envisioned for the former army base will create over 3,000 living wage jobs and reserve 50% of them for local residents. The policy will make it easier for the formerly incarecerated to find work, and establish the most grandbreaking protections for workers against the exploitative temporary work arrangements that are endemic in this sector.
---
Dallas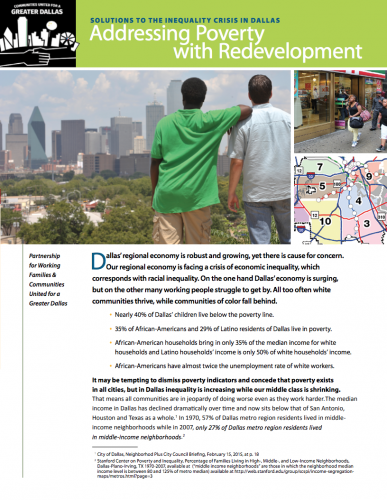 Addressing Poverty with Redevelopment Dallas' regional economy is robust and growing, yet there is cause for concern. Our regional economy is facing a crisis of economic inequality, which corresponds with racial inequality. On the one hand Dallas' economy is surging, but on the other many working people struggle to get by. All too often white communities thrive, while communities of color fall behind.
---
Houston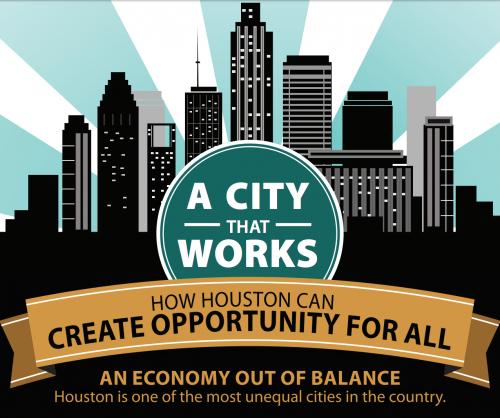 While Houstonians have much to be proud of in their city, growing inequality and poverty jobs threatens the region's economic health. To address this issue, we must take a close look on where our tax money is going and how our cities can ensure prosperity for all residents.
---
Milwaukee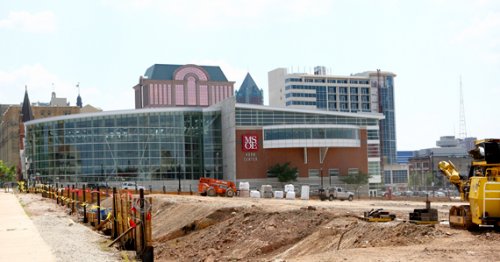 In Milwaukee, Wisconsin, the Good Jobs and Livable Neighborhoods Coalition — comprised of 27 community-based organizations working to improve economic conditions in the city — has leveraged a Community Benefits Agreement (CBA) to ensure that development practices are equitable and residents share in the benefits of a 64-acre redevelopment in the heart of downtown. The Park East Corridor redevelopment accelerated with the demolition of an abandoned freeway spur in 2002, which opened up 26 acres of underutilized and blighted riverfront property owned by the city of Milwaukee and Milwaukee County. Initial development plans for the riverfront parcels spurred the Good Jobs and Livable Neighborhoods Coalition to campaign for the adoption of a CBA. CBAs are legally binding covenants made between developers or government bodies and community groups that require development on specified lands to meet outlined thresholds for living wage standards, local hiring policies, affordable housing, and sustainable development practices. Once in place, developers must abide by the CBA in order to receive tax breaks and other forms of public assistance. There are more than 40 CBAs instituted nationwide.1 As a result of the coalition's efforts, in 2005 the Milwaukee County Board of Supervisors passed a resolution that approved a CBA for 16 acres of county-owned land called the Park East Redevelopment Compact (PERC).
Sources: Partnership for Working Families and EDGC