Innovative social finance in Ontario has a long history, though the field has only recently begun to gain higher profile. As the role of the government, nonprofit and for-profit sectors change, further innovation and growth in this area is much anticipated. However, there is little hard data for such claims to rely on, and with the ongoing influx of new energy, we are all guessing as to what shape such growth could take. One thing, though, we need not guess about: for any widespread expansion of the field, nonprofit organizations must be ready and able to engage in community financing initiatives. They are stewards of community, providing solutions that strengthen the social and financial viability of our province.
This presents quite an opportunity, and quite a challenge, for those seeking to support and enable community financing in Ontario. Collectively, we need to determine what structures can best enable nonprofits and charities to kick-start, continue, or expand their engagement in community financing and build assets for the common good. In order to identify emerging infrastructure for the sector that would support rather than hinder, the Ontario Social Economy Roundtable (OSER), a constellation of the Ontario Nonprofit Network, has researched and considered the topic of community financing.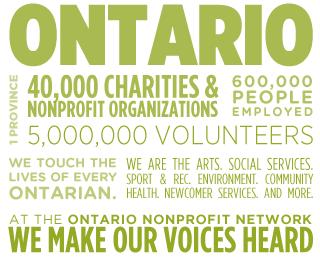 OSER has collectively discussed the potential purpose and value of different frameworks and structures for a formative field, in particular considering if, when, and what kind of approaches to regulation may be useful. Together we have determined that above all, principles are required for the community financing field to grow with the integrity and flexibility that will allow it to flourish. Like saplings, perhaps community financing needs a period of time to bend and flex in order for the most effective growth patterns become clear.
We believe that at this stage of development, a measured, principles based approach, rather than an increased regulatory regime, is the most appropriate way to advance the field of nonprofit and community financing in Ontario. This will create protection for both the investors and the organizations they invest in, in a way that complements the existing regulatory regime. We believe a principles based approach will:
Strengthen a developing field that is important for economic and social development in Ontario;
Lay a foundation for common language and clarity of purpose among policy makers;
Support organizations, investors and nonprofits in the field; and
Ensure that any initiatives to structure the sector are firmly grounded in case studies and a clear understanding of the potential impact of different risk management strategies.
We also anticipate that a principles based approach will provide a way for ourselves and other interested parties to work together when appropriate, ground our work in careful assessment, and build critical supports for nonprofit financing in Ontario.
The following document outlines eight foundational principles for community financing, which we hope will contribute to greater understanding and engagement in the field of community based financing, in Ontario and in other jurisdictions.