Strategists are following the money to schools, corporate cafeterias, and hospitals in hopes of rebuilding local economies and bringing healthy food access—literally in through the back door.
The next time someone points to the need for more farmers' markets as a way to help move local food from a trend to a substantive cultural shift, you might consider telling them about the power of institutional purchasing. It may sound less interesting and, on the surface, it certainly is. (Who doesn't love buying purple carrots to the sound of a didgeridoo?) But bear with us.
You see, public and private institutions spend billions of dollars each year on food. Schools, universities, hospitals, prisons, corporate cafeterias, and senior care facilities share one thing in common—they prepare, cook, and serve thousands of meals every day. Now, a rising national movement wants to persuade these institutions to source a higher percentage of food from regional producers—with an emphasis on farms, fishermen, and and ranches that follow ecologically sound, socially just, and humane practices. It's called institutional food procurement, and, while it might not have quite as much romance as some other elements of today's Good Food Movement, some say this follow-the-money strategy could hold the key to transforming the American food system.
A shift in institutional food buying has the potential for major impacts on not only the local economy, but on food access, according to Amanda Oborne, Vice President of Food and Farms at Ecotrust, an Oregon-based nonprofit that works to advance farm-to-institution initiatives in the Pacific Northwest.
"We put the focus on the buyers with multi-million dollar food procurement budgets because even if they just redirect a couple of percentage points of their budget into the region, that's going to drive change all the way through the [local] supply chain," says Oborne. In one example, chefs at Willamette University in Salem, Oregon can order whole hogs from local producers thanks to an innovative partnerships with a meat distribution company.
For Ecotrust, and other farm-to-institution groups across the nation, the goals are two-fold. First, they aim to sway large institutions with huge food budgets to leverage their purchasing power in support of small and mid-sized regional farmers, ranchers, and fisherman as a way to boost the local economies. And to pivot away from consolidated global distributors like Sysco. A second, and just as important goal, is to open up access to healthy, local, and sustainable food for the populations generally served by public institutions.
"A local tomato will provide just as much flavor and nutritive value to a low-income kindergartner as it will to a wealthy hedge fund manager," says Nessa Richman, Metrics Project Manager with Farm to Institution New England (FINE). "Institutions … feed hundreds of thousands of economically distressed families and individuals every day."
For the past five years, FINE has worked to connect local food distributors with institutions in the Northeast. Across the six New England states, institutions spend a total of more than $78 million per year on local food and an estimated 3.8 million people eat at institutions served by FINE. The organization has released the first in a series of reports focused on regional food distributors and food hubs—both the opportunities and barriers faced by small and large companies. According to those New England-based distributors FINE surveyed, together they moved over a billion dollars of food in 2012, of which $366 billion was sold to institutions. Nearly 90 percent believed sales of local food to institutions will continue to increase.
The farm-to-institution market holds more power to benefit farmers and fisherman than any other local food market, says Richman.
"When institutions make it a priority to buy local, they can spur unprecedented innovation and investment across the supply chain—and make a significant economic impact," she says.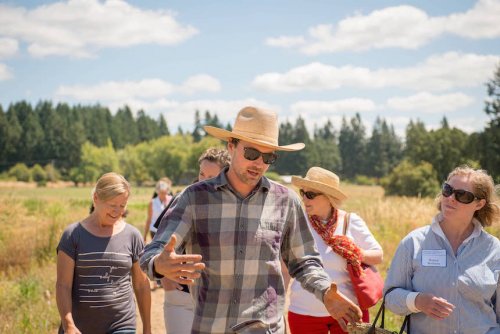 Scale Matters
Not all local farms are equipped to sell to institutions.
At 30 acres, Stoneboat Farm in Hillsboro, Oregon qualifies as a small farm. Jesse Nichols, who farms the land with his brother, says his business has benefited from partnerships with institutions. Currently, they supply about $5,000 a month in produce to the chefs at Intel Corporation, just five minutes down the road from the farm. Corporate cafeterias on the campus serve thousands of employees each day.
"Having an institutional client like this is really beneficial and makes things much more streamlined for us," says Nichols. "It saves us a bunch of deliveries to smaller accounts and makes a big difference in our workloads."
In the future, Stoneboat Farm would like to move into more institutional partnerships. So far, nascent attempts to connect with school food service programs haven't resulted in much.
"It's been difficult to partner with the larger institutions within the farm-to-school movement because of the sheer volume they need," says Nichols. "You have to think differently to buy local. You have to understand the local climate, be able to expect price and availability fluctuations based on what farmers have available. You have to be flexible. We're not a big distributor that can have cheap prices all of the time."
That's where mid-sized farms enter the picture. According to a new report published by the Union of Concerned Scientists, local purchasing has a huge impact. The study, which centered on Iowa, found that if 25 percent of the 22,000 institutions and "intermediate markets" in the state procured local food, over $800 million annually would be generated for the state's economy. If at least half of these local purchases came from midsized farms, they would support over 4,259 farms and potentially 12,320 jobs.
Oborne, at Ecotrust, agrees with the importance of supporting midsized farms so that they can be "meaningful" partners to hospitals, schools, and other institutional buyers, and provide consistent quantities of food that institutional food service requires
"It's that midscale operation that would be ideally suited to building a strong regional food economy," says Oborne. "They're a little bigger than the farmers' market guys with bigger production, and a little more professional operations. Yet, the whole notion of 'ag-in-the-middle' in our country has been hollowed out."
To that end, Ecotrust is in the process of creating an infrastructure hub in Oregon, where midsized farmers can find support for many aspects of their business, from marketing to business planning.
Logistics—mainly to make it smooth for food service directors