---
CCEDNet News

1. Policy Priorities for CED in Canada
This spring, CCEDNet's Policy Council updated our Policy Priorities to build on the momentum of last year's National Summit on a People-Centred Economy. A summary version will being sent to every MP's Ottawa office in the coming days, and we encourage you to send it to your constituency offices when promoting your work with federal partners.
---
2. Do You Know Your Return on Investment?
Have you done a return on investment (ROI) or social return on investment (SROI) calculation for your programs and services? Our updated Policy Priorities present some of the ROI and SROI calculations that members have shared. Demonstrating the value of our activities and approaches is a valuable strategy for promoting members' work. If you have an ROI or SROI calculation f or your organization or program, please send it to Kirsten Bernas at kbernas@ccednet-rcdec.ca to help build the case!
---
3. Federal Pre-Budget Brief
This summer, CCEDNet submitted our Brief to the House of Commons Standing Committee on Finance as part of their consultations in preparation for the 2012 federal budget. Our three recommendations for a sustained economic recovery encourage the federal government to build capacity in community enterprises, enhance procurement practices, and improve access to finance.
---
4. New Publication: Building a Federal Policy Framework and Program in Support of CED
CCEDNet's latest report addresses the ongoing challenge for CED organizations in Canada to maximize their long-term community benefit when multi-year funding for core organizational costs remains out of reach. To remedy this problem, the report recommends the development and implementation of a federal CED Policy Framework and Neighbourhood Revitalization Program (NRP) modelled after the Government of Manitoba's CED Policy Framework and Neighbourhoods Alive! program.
---
5. Spark: Capacity Building in Winnipeg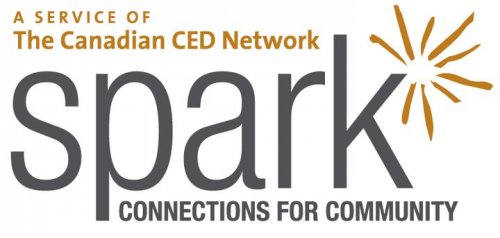 Spark is the Canadian CED Network's capacity building service for non-profits in Winnipeg engaged in community renewal, poverty alleviation and social change using a community development or CED approach. Spark staff work with organizations to define their skill and capacity gaps, and then connect them to relevant resources. The centrepiece of the service is arranging matches between organizations and volunteers with specialized skills (from a wide variety of professions) to provide time-limited but crucial technical assistance.
For more info see www.sparkwpg.ca or check out some of the recent matches made on our Facebook page
---
6. CCEDNet Helps Skyworks Charitable Foundation Promote Documentaries on Homelessness

CCEDNet has partnered with Skyworks Charitable Foundation in helping to promote the Home Safe documentary series, which examines the impact of homelessness on Canadian families. The three-part series examines the systemic roots of homelessness in Toronto, Calgary, and Hamilton as a consequence of economic restructuring, discrimination and displacement. More importantly, these documentaries give a voice to the families who are struggling with homelessness and presents an opportunity to hear firsthand the complex challenges of poverty.
Click here to learn more about Home Safe and view film clips.
---
7. New On-line Resources on International Co-operation
CCEDNet's International Committee is offering a series of webinars on themes that connect CED initiatives in Southern countries with Canada. Resources and recordings of past sessions on community forestry, microcredit, the co-construction of public policy and FIESS 2011, and food security and sovereignty are available on our website.
Upcoming topics will likely include women's economic empowerment, fair trade and CED, cooperative development and sustainable tourism. Watch future bulletins for more information.
---
8. Ready for a Change of Scenery?
CCEDNet's International webinars are supported by Uniterra, one of Canada's largest volunteer placement programs. With placements from two weeks to two years, there are always opportunities to explore new cultures, share your expertise and support local organizations that