Following a call for proposals, CCEDNet's Board of Directors is pleased to announce that CCEDNet member CEDEC has been selected to host the 2016 National CCEDNet Conference in Montréal. 
As Quebec's province-wide organization with an economic and labour force development mandate, CEDEC — the Community Economic Development and Employability Corporation — helps communities throughout Quebec to identify, assess, and prepare to act on economic development opportunities and stimulate business activity.  CEDEC lends planning expertise and follows through by brokering the strategic partnerships that make community plans a reality.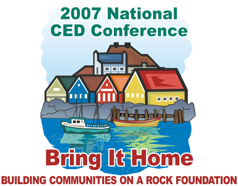 Between 2002 and 2009, the annual National CCEDNet Conference was the foremost opportunity for community leaders to connect with one another, share innovations and learn about effective solutions across sectors.  After several years of partnering with other national and international events and holding our own regional conferences, the demand for a return of this unique event has been growing.  
The 2016 National Conference will feature leading speakers, engaging sessions and tailored networking opportunities on the latest innovations in community enterprise, employment development, and local economies that are creating sustainable prosperity for all. 
The conference dates and details will be announced in the coming weeks. 
CCEDNet thanks all members and partners who expressed an interest in hosting the 2016 national conference. 
We look forward to seeing you in Montréal in 2016!