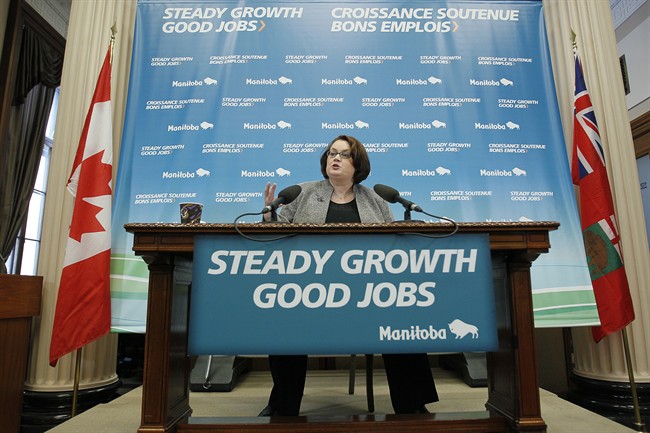 Finance Minister Jennifer Howard fielding questions after the budget speech
Budget 2014 is a strong response by the Government of Manitoba to the priorities that our members have identified as being essential for our mission of reducing poverty and creating economic opportunities for individuals, families and communities that currently do not share equitably from the benefits of our economy. Budgets are statements of values and priorities, and Budget 2014 clearly aligns with the values and priorities of our members – although there is always more work to be done. From a CED standpoint here are some of the exciting commitments made by the Government of Manitoba within their new budget:
Social Enterprise
Understanding that social enterprises are very effective at creating jobs for people with barriers to employment, our members asked for the creation of a Manitoba Social Enterprise Strategy. Budget 2014 committed the Province to "work with social enterprises to create a comprehensive strategy to grow the sector and create more first jobs." This is a significant achievement, and we look forward to working with the Province to make this an effective, visionary, and results-focused strategy.
Community Enterprise Development Tax Credit
Seeking to improve the existing provincial CED Tax Credit to enhance the ability of community owned businesses such as co-operatives to raise equity capital, our members asked for the tax credit to be increased from 30% to 35%. Budget 2014 (effective in 2015) extends the tax credit to 2020,  increases the tax credit to 45%, raises annual individual investment limits from $30,000 to 60,000, raises equity drive limits from $1 million to $3 million, makes the tax credit fully refundable, and enables the participation of Manitoba businesses.
Co-operative Development
As co-operatives are a very effective community economic development model, our members asked for the renewal of a 5-year co-operative development strategy. Budget 2014 renewed funding for the strategy for one year, during which time evaluation and planning for a longer term strategy will occur. Minister Howard's speech highlighted a commitment to "invest in Youth Co-operative Services, an innovative program that helps young people set up co-op businesses."
Training and Jobs
Manitobans want to work, yet many face barriers to employment. Creating appropriate training and employment opportunities is essential if the Province hopes to reduce poverty and achieve its ambitious goal of expanding Manitoba's workforce by 75,000 people by 2020. Budget 2014 invests $3 million over 3 years in "Manitoba Works! – a new program with community agencies to provide essential skills training and work experience to people who face many barriers to a good job." Gateway to Apprenticeship was also announced as an initiative that will partner with community-based training providers to "develop skills in the trades for youth and under-employed populations, create apprenticeship opportunities for Aboriginal persons and women, and launch new trade initiatives specific to Aboriginal and community economic development," with an objective of ensuring that these trainees will then benefit from the opportunities and jobs created by the recently announced $5.5 billion 5-year infrastructure plan. Budget 2014 also establishes "a first-in-Manitoba post-secondary program for persons with intellectual disabilities at Red River College [to] increase our workforce and build on our historic new Accessibility for Manitobans Act," something that CCEDNet members successfully supported as a policy priority in 2013. Many of our members will also be pleased to see a commitment to "more Green Teams – over 1400 jobs for young people this summer [and] new summer skilled trades camps [that] will help students have fun while learning hands-on about a future career."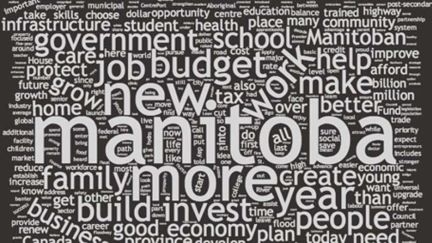 CBC created this word cloud based on words used prevalently in the budget speech
Basic Income
Knowing that many of the people do not receive enough income to meet their basic needs, our members mobilized multi-sector support from 150 organizations in asking the Province to raise the rental allowance to 75% of median market rent. Budget 2014 stated that the Province "will significantly increase housing support for people on social assistance…to 75% of median market rent." This is a huge win for people living in poverty, and for the organizations that mobilized to create this important change. While the increase will happen over four years rather than in one, the new approach reaches more people (meaning that some not even eligible before will now be covered) and will be indexed to rising costs over the coming years. In that way it is an even better response than our members had been asking for.
< BACK