Unlock your FULL leadership potential! Join leaders from across the country in our Community Leadership Programs that are designed to cultivate strategic positive impact in your organization. Navigating Change for Leaders and the Leadership Intensive REGISTRATION is now LIVE!
Only a few spots left for our FREE Leading Through Change Workshop on September 19th!
CCEDNet's Leadership Programs offer learning experiences for individuals or teams who seek to move forward in their leadership journeys with intention and purpose. Through interactive instruction, collaboration with peers, and embodied self-reflection, participants learn, connect, and grow.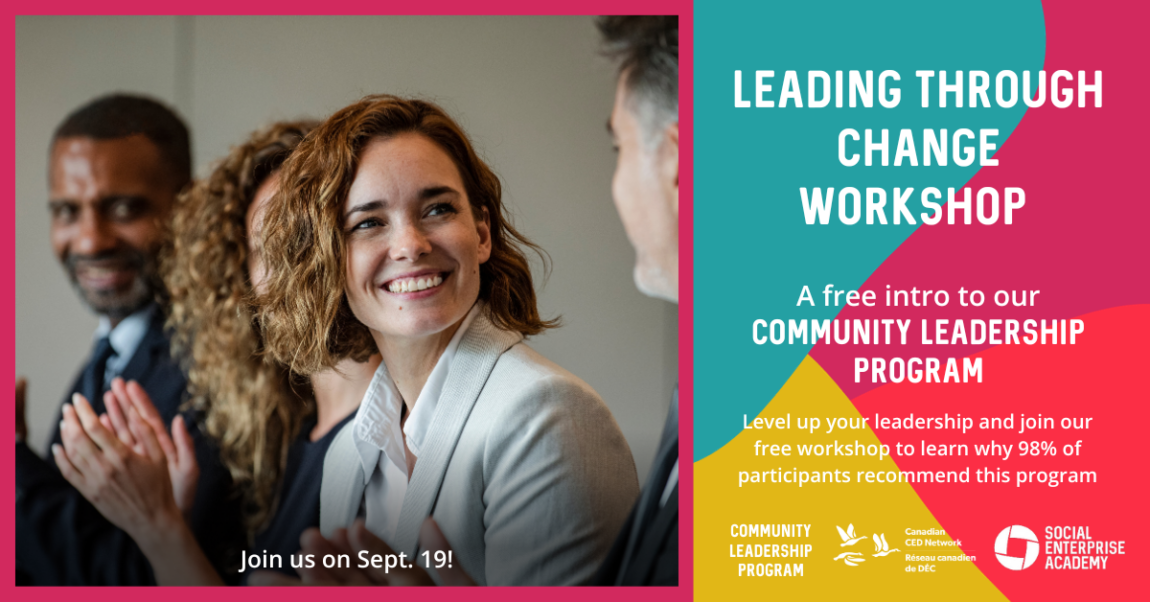 "This workshop offered lots of opportunities to interact with peers and discuss the level of needs/challenges we face in our work environments. These interactions with other leaders aren't always feasible – or plentiful. Thank you!"

"Leadership styles and resilience factors! Just taking the time out of the regular work day to be reflective at this level had the greatest impact."

Testimonials from Leading Through Change workshop participants
Inspire and deepen your leadership practice! Join colleagues for an engaging and energizing 2.5 hours to discuss and explore approaches, strategies and ideas that build leadership resilience and help you navigate organizational change. We're thrilled to be sharing these impactful frameworks explored in the 2-day and 6-day leadership programs!

Only a few spots remain, so sign up today!
Tuesday, September 19, 2023 10:30am – 1:00pm Eastern Time.
---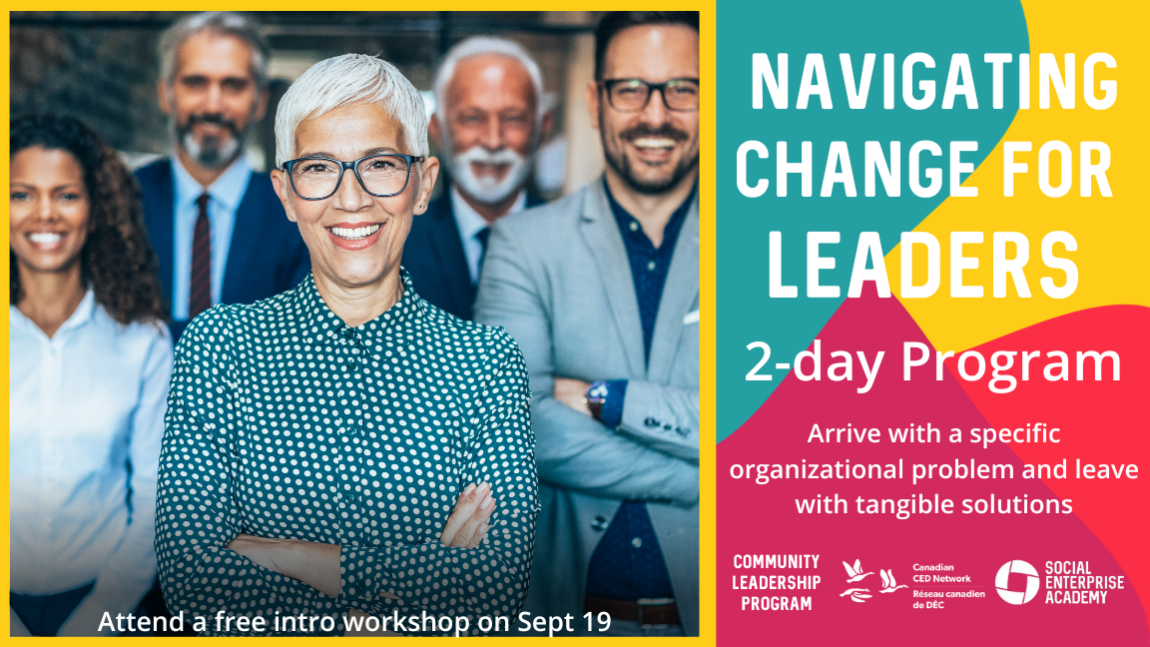 "I highly recommend Navigating Change for Leaders to anyone planning or experiencing change in their organization! The ability to work on your real life change scenario throughout the two days means it's a very productive time. The variety of participants and how they approach each segment allows you to see how the principles can be applied in different settings. My immediate needs were met and I came away just bubbling with ideas and a fresh energy for my project after these two days."
Dorothy Franklin, Strategic Planning for Not-for-Profits | Navigating Change for Leaders program participant

"This was the most effective professional development experience I've had as a nonprofit leader. The workshop made me feel less alone in my change management frustrations and gave me just the boost of confidence and planning I needed to face change head on. The tangible nature of the course ensured I could almost immediately put what I was learning into practice in my work life. The workshop was absolutely worth the time investment. I reflect back on the content often and would absolutely recommend this experience to anyone."

Testimonial from Leading Through Change workshop participants

Organizational change is not easy but a constant in the social and community sectors. This carefully designed 2-day course will provide you with high quality change management concepts and approaches, a concrete opportunity to create an action plan, and energy and momentum as you embark on new strategies and approaches to transforming your environment.
Designed for leaders navigating and overseeing various change scenarios, this program is offered to individuals through our Open Enrollment Sessions and also organizations interested in customized group training!

Registration is now open for Navigating Change for Leaders. Sign up today!
---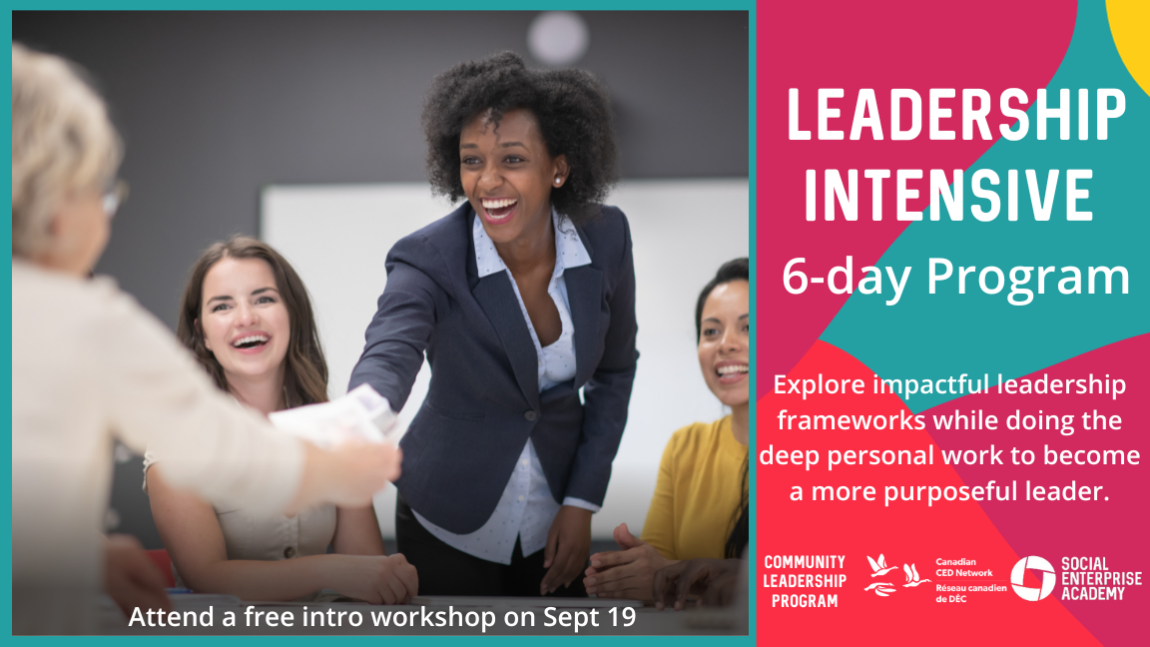 "I loved the variety of learning strategies and the scope of practical tools offered. I really appreciated having participants from different sectors (all within the social impact family) from across Canada. I loved the combination of plenary and small group work, very impactful!"

"I have a new understanding of my role as a leader among leaders in my organization. I've been empowered to see different ways in which I can improve as a leader and become a better supporter to the people I lead, and have also been edified to see there are things that I'm already doing alright at!"

"It has been awhile since reflecting on my leadership and at this stage of my career it was helpful to reflect on this through a series of tools. I feel I have clarity on how I want to lead in the next phase of my career."

Testimonials from Leadership Intensive program participants
98% of past participants would recommend this Leadership Intensive to a friend or colleague! Join the next cohort of brave, innovative and determined leaders from across Canada to examine self-leadership, leading and understanding others, and leading within an organization through 6 sessions of supported and embodied learning that will help strengthen your collective problem-solving and creativity.
Designed for leaders of all stages, this program is offered to individuals through our Open Enrollment Session and also organizations interested in customized group training!

Registration is now open for our Leadership Intensive. Sign up today!
---
Accessibility: Increasing ease of access for people of every identity and ability is our priority. Closed captioning will be available. But, if there is a barrier preventing you from fully joining us for our programs, we want to help! Additional accessibility accommodations may be made available by contacting Adriana Zylinski at .